Attention! Some payment methods are available under certain conditions and may depend on customer's location or order sum total. Please select the appropriate method of payment that suits your situation.
You can pay for your order via internet using payment system "PayPal" where we accept credit/debit cards VISA, MasterCard, American Express and Discover.
PayPal lets you conveniently send and receive money through the internet.
Safer - Pay with your credit card, bank account, or PayPal balance without ever exposing your numbers to the merchant
Easier - Speed through checkout without retyping financial information or even your address
How PayPal Works


| | | | | |
| --- | --- | --- | --- | --- |
| | | | | |
How to pay via "PayPal" system
When you check your order choose "

PayPal

" as your payment method.
You'll be automatically moved to "Order confirmation" page. There you can see your complete order with sum total, shipping method and payment method indicated.
When you click on "Confirm order" button the system moves you and all you data to highly protected

PalPal page

.
If you already have a

PayPal account

, you only need to enter your password and confirm payment.
If you don't have a

PayPal account yet

, you'll see the following page: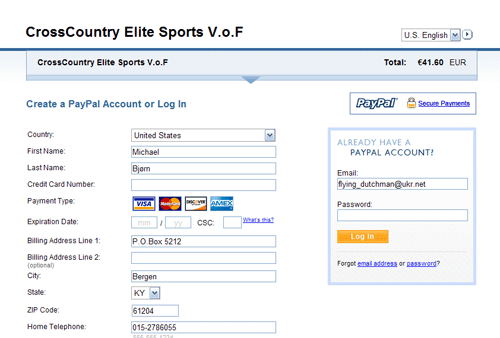 Attention! Some versions of Mozilla may display another page: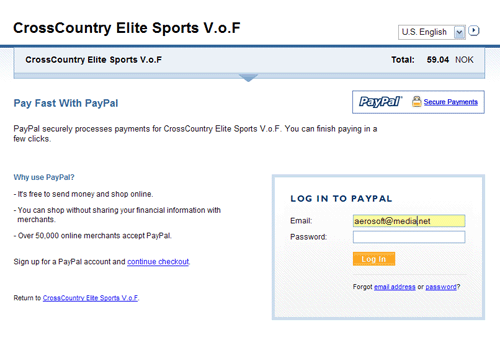 In this case find line "Sign up for a PayPal account" and click on "continue checkout" link. After that you'll be moved to PayPal registration page.
On this page you'll be asked to enter your credit/debet card information and your new password for

PayPal

.
After clicking on

"Agree and Continue" button you'll see again the page with your order sum total indicated.

You need to confirm your payment once again. After that

PayPal will draw out the money and you'll return to our web-site

.
In a few minutes you'll receive an e-mail confirming your order and payment.
If you have any problem with your payment or you didn't get a confirmation e-mail, please, contact us: info@xc-elitesports.com
You can pay for your order via any bank functioning in your own country. Period of transaction - 3-4 working days. We start to proceed your order after we have money on our bank account (the order has status "Proceeded"). If we don't receive money during 10 days we'll have to cancel your order. However if you did make the payment and we still don't have the money after 10 days (we'll inform you about it) please, contact us via e-mail info@xc-elitesports.com
Our bank account:
Account holder: Cross Country Elite Sports V.o.F, Gronsvelderweg 21, 6247ER Gronsveld, The Netherlands
Account IBAN: NL44INGB0002051069
BIC/SWIFT code: INGBNL2A
Bank: ING Bank N.V. Foreign Operations
PO Box 1800, 1000 BV Amsterdam
The Netherlands
Please, Enter your name and your invoice number in the subject field!
Cash on delivery or COD is a financial transaction where the payment of products and/or services received is done at the time of actual delivery rather than paid for in advance. The term is mainly applied to products purchased from a third party, and payment is made to the deliverer. The fee of this service is 5.00EUR in EU. TNT company offers COD service only inside the Netherlands.